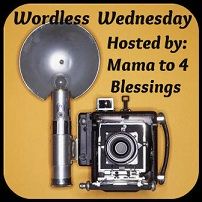 Mama to 4 Blessings is on a new endeavor - I am now flying solo (no more co-hostess) every Wednesday for Wordless Wednesday, if you have my old Wordless Wednesday button please feel free to change it to my new button above (the text for the button is on my sidebar). I am excited about this new endeavor!
Soccer season just started back up, our 2 older boys started playing soccer again - Upwards at our church a few weeks back.....
Here is how our 2 little ones entertain themselves during their brothers soccer games............... This idea was all on their own!
What's your Wordless Wednesday? Link up right here with
Mama to 4 Blessings every week and share your Wordless Wednesday! PLEASE do not link up your giveaways on this linky. You can add them every Saturday to my Super Saturday linky.